C175-16 Propulsion Engine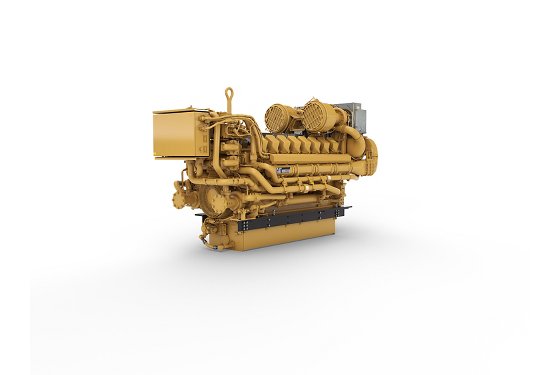 Overview
The C175-16 is the first Cat marine engine with core ACERTTM Technology, designed and built from the ground up. This offers maximum performance along with EPA Marine Tier 3 and IMO Tier II emissions compliance with no aftertreatment. With unrestricted continuous and heavy-duty ratings, you get morepower with plenty of room for growth, so you maximize productivity while minimizing cost of ownership. With a bore of 175 mm (6.9 in) and a stroke of 220 mm (8.66 in), the C175-16 is highly efficient while providing increased propulsion output in a high speed engine platform. Additional features include: Turbocharged and aftercooled aspiration, MCS approved monitoring, alarm, and protection system. Cross-flow head design, simplified electrical system. The C175-16 is backed by a Caterpillar warranty and the best service network in the industry. The global Cat dealer network means customers can count on the service and support they need for their marine engines no matter where their vessel is located.
C175-16 Propulsion Engine - Specifications
Power Rating

| | |
| --- | --- |
| Power Range | 2683-3420 bhp (2001-2550 bkW) |
Engine Specifications

Speed Range

1600-1800 rpm

Emissions

IMO II

Aspiration

TA

Bore

6.88 in

175 mm

Stroke

8.66 in

220 mm

Displacement

5166.88 in³

84.67 l

Rotation from Flywheel End

Counterclockwise

Configuration

Vee 16, 4-Stroke-Cycle Diesel
Dimensions & Weights

Dry Weight

28750 lb

13041 kg

Height

97.6 in

2478 mm

Length

177.8 in

4515 mm

Width

72.6 in

1845 mm
C175-16 Propulsion Engine - Standard Equipment
IMO Certification (Emissions)

For GL IMO certification for vessels with a German Flag, additional certificatio nthrough the German Authority SeeBG is required.
Charging System

Alternator Harness: 10M/32FT, 20M/64FT, 30M/98FT
Battery Charger 20 AMP
Cooling System

Coolant Level Sensor
Exhaust System

Flexible Fitting
Flanges
Flange & Exhaust Expanders
Fuel System

Flexible Fuel Lines
Instrumentation

PL 1000E Communication Module
Marine Gear Sensors
Color Marine Power Display System
Turbocharger Speed Sensors
Lube System

Electric Prelube Harness
Special Tests/Reports

Special Test Charge - English Only
STD Engine Test Charge
Starting System

24 Volt Battery Set - Dry (QTY6)
Starter Motor Harness
Service Tools/Ship Prot./ Factory Support

Shrink Wrap Protection
Export Packaging
Making Your Investment Work Harder - Designed and sized to allow for greater power output in the future. Thermo-laminated heat shields save time and money during service
Driving Down Total Cost of Ownership - Wide range of available power ratings, Compliant with no aftertreatment required, Cat® durability
Committed to Sustainable Development - EPA Marine Tier 3/IMO Tier II Emissions Compliant, Common rail fuel system enables low emissions at all levels
Improving Workforce Efficiency - Marine Classification Society approved monitoring, alarm, and protection system, Cross-flow head design optimizes fuel consumption
Fully Integrated Marine Power Solution - 13% more power for increased productivity, Standard warranty on all factory-packaged components
Caterpillar Common Rail System - This system features electronically controlled, fully flexible injectors, enabling optimal combustion and low emissions at all levels, along with better transient response.
Cross-flow head design - Improved airflow helps the air/exhaust flow meet emissions and optimize fuel consumption
Simplified electrical system - Allows for easy installation and maintenance, reducing up front and service costs.
New generation of turbochargers designed specifically for the C175 - Cast titanium impeller offers five times longer low-cycle fatigue life, and compressor blades are twice as resistant to high-cycle fatigue. Turbochargers are mounted on cast pedestals and center-positioned to eliminate external oil drain lines, reduce the chance of oil leaks, and improve turbo efficiency. The flexible bellows connections used on inlets/outlets of the turbine and compressor housings minimize leakage and provide isolation from external vibrations, motions, and thermal expansion.
Marine Classification Society approved monitoring, alarm, and protection system - Now offered as a factory-installed and warranted option, saving you money and providing a single source for the whole package.
Thermo-laminated heat shields for exhaust components - Easier to install and remove than the traditional soft shields, they save time and money during service. The no-gap fitting enhances safety with better hot spot coverage.